I had the honour of playing the closing set at Glue last night. Following an awesome headline set from Mini Da Minx left me with no option but to blow the doors down!
A few friends who couldn't make it asked me to record the set, so here it is – 45 mins of unadulterated bass music (would have been an hour, but the bouncers were very insistent that I had to finish 15 minutes early, much to the disappointment of the crowd)!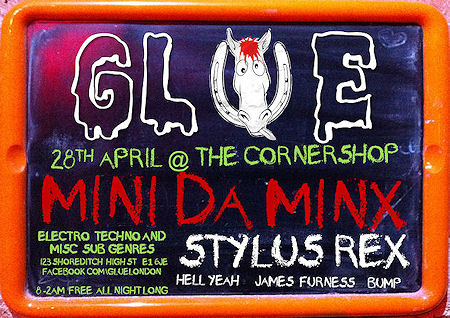 Tracklist
Eats Everything & Worthy - Tric Trac (Original Mix) [dirtybird]
Umek - Jack The Groove (Original Club Mix) [Toolroom]
Shadow Child - String Thing (Original Mix) [dirtybird]
Kid Blue - Nothing To Lose (James Talk Remix) [Lot 49]
Under This - Euphoria (Original Mix) [iBreaks Bass]
Red Polo & Defkline - I Still Love Your Boots (Original Mix) [Hot Cakes]
Necro - Genoma (Under This Remix) [KindCrime Recordings]
Dopamine - System Error (Original Mix) [Title Fight Recordings]
Lee Coombs & Uberzone - Right Now (Dopamine Remix) [Lot 49]
Piemont - Purist (Andhim Remix) [Natura Viva]
Bcee & S.P.Y - Diagnosis Murder (Metrik Remix) [Spearhead Records]
Play this episode
Use the player below or click Download to listen to this episode.
Podcast: Play in new window | Download
Note that if you have a podcatcher (e.g. iTunes), you can also subscribe to the podcast in order to listen to this episode, plus automatically receive future episodes as they are posted. Click here for instructions on how to subscribe to the podcast.