From this month's mailout…
So, the weekend has landed (well, almost!) and it looks set to be a scorcher… Probably not on the weather front, knowing the good old British summer, but because it is Glue's 2nd birthday this Saturday!
For this rare occasion they have a number of surprises and treats in store including a line up picked exclusively from Glue regulars and residents, providing you with the opportunity to feast your ears on a delectable smorgasbord of beats without any of that Prima Donna nonsense that headliners are sometimes known for (I'm looking at you Grace Jones)…
…well ok perhaps one Prima Donna as the lovely people at Glue have given me the honour of headlining their wonderful evening. And to celebrate this special occasion I have been digging in some unusual crates to find something really… quite different… for your listening pleasure tomorrow night. And that's all I can say on the matter. Catch me 12.30-2.15am tomorrow night at the Horse & Groom to find out more!
As usual entry is free before 10pm, or a mere £4 after 10pm.
Glue – Saturday 23rd July @ Horse & Groom (Shoreditch)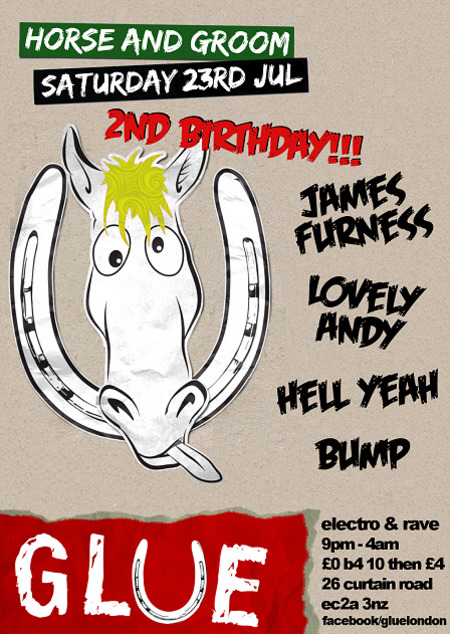 Incredibly Glue is two years old! Seems like only yesterday we were pacing around the delivery room, anxiously awaiting of the arrival of London's brightest new club night. Yet here we are, entering the terrible twos and as always ready for some serious partying!
To mark this very special occasion we'll be putting on a very special night with four of our very favourite DJs, not to mention a few birthday surprises thrown into the mix too.
Playing the peak time slot is regular guest and all round DJ hero, James Furness. He first played for us at our very first We Have Fun way back in 2008 and has been back many times, including several iconic sets at Glue. Expect some real treats for the big birthday party with his set taking in house, electro, breaks and a lot beside.
Ending the party on a high will be Glue's very favourite Northerner, Lovely Andy. He too has played for us many, many times, first as Fatman 88 with some dark and heavy techno and more recently as Lovely Andy with a slightly happier set. He's played Glue a couple of times in the last year, each time better than the last, setting a very high standard for himself – we're pretty sure he'll better it again this time…
Kicking the celebrations off is a man that is no stranger to Glue – back from his baby enforced hiatus is Hell Yeah! The former resident and co-creator will be once again be gracing the decks at Glue, playing some funkier tunes at the start of the night and no doubt setting the party up perfectly for the chaos that will follow!
Finally, we have our loyal and most trusted resident, bump. He's played more Glues than anyone and set the musical tone perfectly each time. So once again he'll be doing his techno thing and taking the Horse & Groom from a nice little pub to mental party zone in 105 minutes!
So don't miss out on the best birthday party ever!!!
However before the big day itself we wanted to share the party spirit with you so here's a special birthday mix that Lovely Andy has done to get us all in mood – http://soundcloud.com/love​lyandy/lovely-andy-present​s-glue
And to get a taster of Glue, check out mixes from our nights on Soundcloud – http://soundcloud.com/havi​ng-a-laugh
@ Horse & Groom, 28 Curtain Road, London, EC2A 3NZ
9pm-4am, free before 10pm/with guestlist, £4 after
Links: Facebook | Venue | Google Map