From this month's mailout…
A very quick email to let you all know I will be taking a brief respite from my all-consuming day job to play some tunes tonight at Frank's Night Off. Only a brief respite though, as I will be kicking off the festivities with some chilled out minimal techno and house from 10pm-11pm so that I can get home before turning into a pumpkin.
So get down early to avoid disapointment and enjoy a night of the very finest techno and house!
Frank's Night Off – Friday 9th December @ The Russian Bar (Shoreditch)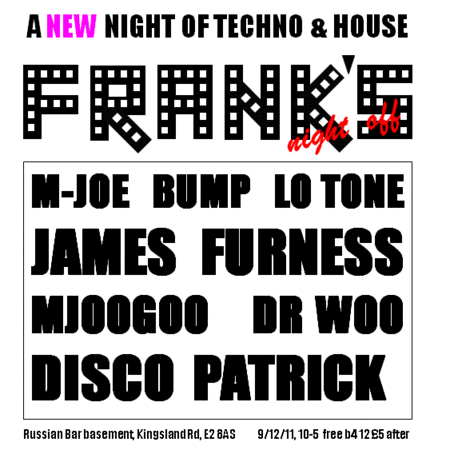 We've booked the basement of the Russian Bar. It's small, sweaty and great fun.
We will be playing the best techno and house. The DJs will be, in random order:
JAMES FURNESS
DISCO PATRICK
MJOOGOO
BUMP
M-JOE
LO TONE (live)
DR WOO
@ Russian Bar, 267 Kingsland Road, London, E2 8AS
Free before 12, £5 after. 10pm-5am
Links: Facebook | Google Map